Let Senior Benefit Advantage Medicare Advisors Help You Find Real Dental Solutions with a Medicare Advantage Plan
Medicare Advantage Plans are the Primary Source of Dental Insurance for Those on Medicare [2] !
As a broker who specializes in Medicare Services, dental coverage has long been a source of major consternation for me.  Until now, when clients have asked me about dental coverage, my solutions have been limited. In 2022, Medicare Advantage plans have come to my rescue!
Currently, comprehensive dental benefits are usually not covered by Original Medicare, and nearly half of Medicare beneficiaries go without dental insurance [2]. In 2018, Medicare beneficiaries who obtained dental services, averaged $874 in out-of-pocket costs with one in five spending over $1,000 [2].
Dental Health Can Affect Overall Health | Help From Medicare Advisors
Neglecting dental care can impact overall health, as it relates to nutrition and chronic disease. People who have missing teeth or ill-fitting dentures are not likely to eat nutritionally rich foods such as fresh fruits and vegetables. They are more likely to eat soft foods which are rich in saturated fats and sugar that contribute to comorbidities such as heart disease and diabetes [1].
Not seeing a dentist can also delay diagnosis of serious medical conditions such as oral and pharyngeal (throat) cancers which are primarily diagnosed in older adults [2]. Dry mouth, related to over the counter and prescribed medications, is a common condition for older adults that increases the risk of cavities, loosening dentures, problems with chewing and swallowing, and altered taste which can impact nutrition, and contribute to disease [3].  People with chronic diseases such as arthritis, diabetes, heart disease, and chronic obstructive pulmonary disease (COPD) may be more prone to gum disease while being less likely to get dental care than their counterparts who do not have such health problems [2]. According to CDC one in five people over 65 years old have untreated tooth decay. They also report that sixty-eight percent of older adults have gum disease, and nearly one in five adults over 65 have lost all their teeth [1]. That's why it's critical to seek help from Medicare advisors if you are struggling to find dental coverage.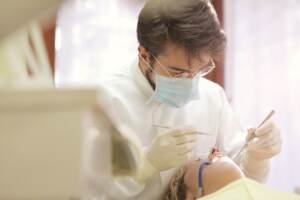 Medicare Advantage Plans May Help Provide You Dental Coverage
Medicare Advantage is so far the best solution to the problem of Dental coverage for those on Medicare. Most Advantage plans cover preventive and routine services without requiring extra premium.  Some plans offer a benefit for comprehensive dental with no cost-share and a limited benefit maximum.  Many plans offer flexibility in their dental benefits by allowing an Optional Supplemental rider to be purchased on top of the embedded dental.  Most significantly, there are never any waiting periods for major dental services on Medicare Advantage plans.
Our Medicare Advisors Near Me Can Help You Find a Dental Provider Who Accepts Your Plan in 2022
In 2022, dental benefits on Medicare Advantage plans are better than ever!  Senior Benefit Advantage is excited to bring these benefits to our clients as. representatives of all major plans in our service area.  As Medicare brokers, partnering with Dr. Marino and Associates, we can help our clients use Medicare Advantage plans to their best advantage for quality dental care and affordability.  Dr. Marino has been rated Beacon's Best dentist for the past 5 years in a row!    He has been the Top Dentist in Akron's Life Magazine 3 years in a row and Top Dentist in Cleveland Magazine 4 years in a row.

We are very proud to work with Dr. Marino and Associates to help provide their patients, our clients, and our community with better access to quality dental care on their Medicare Advantage plans! 
Medicare Annual Enrollment Period begins October 15th and lasts through December 7th.  Please give us a call if you would like to review your Medicare plan to determine how to get the most dental coverage available to you!