Avoid The TV Scamsters! Call Senior Benefit Advantage Medicare Advisors. We Are Real People From Your Community!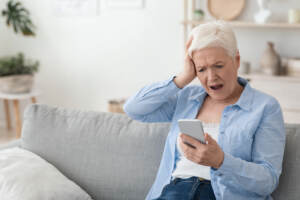 WARNING:  DO NOT CALL THAT NUMBER ON YOUR SCREEN! | Find Medicare Advisors 
Medicare season is rife with scams!  Beware of answering your phone when it is an unknown number!
This is the time of year when the Joe Namath commercials and other commercials about Medicare become even more in your face, OBNOXIOUS!  Without help from Medicare advisors, you're at the mercy of these scams.
The mail and robo calls you have been getting all year about Medicare will likely intensify, as we are in the middle of Annual Enrollment Period.  Annual Enrollment Period (AEP) starts October 15thand ends on December 7th.  This is the time when anyone on Medicare can join or change their Medicare Advantage or Prescription Drug Plan.
Am I Really Getting Scam Calls?
Clients call all the time asking how they get their money back in their Social Security check?  Does their zip code qualify for more benefits?  What is Part C?  How do they get Part C?  Is Medicare going to cover Dental next year?  What is a give back plan?  These questions are all spurred by the television commercials featuring celebrities such as Joe Namath and JJ Walker, that run constantly now, ALL YEAR LONG!
Unfortunately, these advocacy topics have become a bait and switch technique at this time of year when everyone with Medicare is a target for the Scamsters!  Less than 20 percent of those on Medicare qualify for these social programs, funded jointly by Social Security and your State Medicaid agency.  These programs are dependent on income and resource guidelines!   In order to know whether you qualify, you must share significant personal identifying information (PII) over the phone that again puts you at RISK to Scamsters!
When you call the number, you will be connected to a "licensed insurance agent" operating from a far away call center whose knowledge and expertise is limited to what screen prompts and their ability to read enable them to share, and their daily bread depends on their ability to convince you to "SWITCH" your Medicare Plan!
If you manage to read the disclaimer that is in microscopic print for split seconds on the screen, you will see that when you call the 1-800 number, your call is directed to a 3rd party partner of Together Health PAP, Inc.  Please look at the BBB opinion of Together Health PAP, INC:  https://www.bbb.org/us/fl/coral-springs/profile/medicine-consultant/togetherhealth-insurance-llc-0633-90066640
If this aggressive advertising has made you curious about topics such as Medicare Savings Programs, potential Give Back Plans in your zip code, Veterans and Service Plan Options, $0 premium Medicare Advantage Plans, Original Medicare and Medigap Plans, how they differ, Is Medigap or Medicare Advantage a better fit for you, and what Medicare Options might be available to you-
I urge you to USE LOCAL AGENCIES who are ACCOUNTABLE TO YOU!
Senior Benefit Advantage, IS LOCAL AND ACCOUNTABLE TO YOU!  Putting our clients FIRST in all we do!  We are available to answer your Medicare Questions as your LOCAL AND ACCOUNTABLE Medicare Advisors!